One of my favourite authors I discovered too late in life, is Holly Bourne, a young adult contemporary author. Her books are honest and so beautifully crafted with moments of laughter to break up the blunt truth of life. She writes about relationships between friends, family and the opposite sex as well as a frank portrayal of the reality of romance, sex and dating. Her work is the sort of thing I wish I had read when I was younger, books packed with feminism, relationships and family life, they're truly something to be treasured and read time and time again.
♥
The Manifesto On How To Be Interesting
A girl unhappy with her life, she has been rejected by publishers for her work again and again which leads her into creating the 'manifesto on how to be interesting' which involves her having a complete makeover, integrating herself with the 'popular group' at school, and basically resulting in a huge event of humiliation. The manifesto is a series of steps in order to guide someone on how to become interesting and Bree changes her life just so she has something 'interesting' to write, after accepting that her current writing isn't good enough. She posts on a blog the six steps in this manifesto she has constructed, along with updates on her progress with implementing this into her life. It shows that the people you see at school, or at work, or in the street, aren't actually what they seem; they could be a person trying to be something else, rather than just embracing who they are or someone unhappy in life and putting on a mask for others to see. If you want a reminder that it's okay to be you, then read this book!
If you want a taste of this author's writing, then here are some quotes to hit you square in the chest as they did me whilst reading this INCREDIBLE book:
"Being interesting isn't important. But being happy is. As well as being a person you're proud of."

-Holly Bourne, The Manifesto on How to be Interesting

"Love, as always, is what it comes down to. You have to love. It's the only way. Love for life. Love for others. And, most importantly, love for yourself."

-Holly Bourne, The Manifesto on How to be Interesting
♥
The Normal series is a trilogy with each book focusing on one of the three girls: Evie, Amber and Lottie who, together, form the Spinster Club. It's full of fun, friendship and feminism but also touches on mental health and relationships.
Am I Normal Yet?
The series starts off with Evie fighting with her OCD as she struggles with making friends and even a boyfriend, but you have to happy and well in yourself before you can start helping others, as Evie learns in this resonating book of the harsh reality of a person managing a mental health disorder. Seemingly 'normal', Evie enters the tricky world of friendship and relationships, and the story slowly unravels to follow this character on a downward spiral as she relapses, but the ending is amazing because her friends stick by her and the SPINSTER CLUB is born!
"Everyone's on the cliff edge of normal. Everyone finds life an utter nightmare sometimes, and there's no 'normal' way of dealing with it… There is no normal, Evelyn."

-Holly Bourne, Am I Normal Yet?
How Hard Can Love Be?
How Hard Can Love Be? is second in the Normal series and is set in a truly stunning location and realllllly made me want to visit Yosemite Falls, inspired by the author's own experience when travelling through America. Amber goes to America to work at a camp with her mother and encounters her own troubles with guys as well as a difficult relationship struggle between herself and her mother. How Hard Can Love Be? was a lovely read and it was so nice to be back with the Spinster Club. I also loved the Monty Python reference – the Knights who say… NI!
"Failure is never getting hurt. Because that means you've not done anything you cared about."

– Holly Bourne, How Hard Can Love Be?
What's A Girl Gotta Do?
The last in the Normal series is called What's a Girl Gotta Do? and centres on Lottie and her battle for feminism. She has to balance her work life and aspiration for a career in politics, with her passion for feminism and changing the world. With not very supportive parents of her idealistic views and trolls on the internet, Lottie fights for what she believes in with the help of her friends. It's packed with an amazing fight for feminism and is definitely a brilliant read.
"I want to change things on my own terms, to show that there's no right or wrong way to change the world. There's no entry test. You don't need to suck anything up. Pay any dues. Just you and your anger and your voice is enough. If you only have the courage to use it."

-Holly Bourne, What's A Girl Gotta Do?
…And A Happy New Year?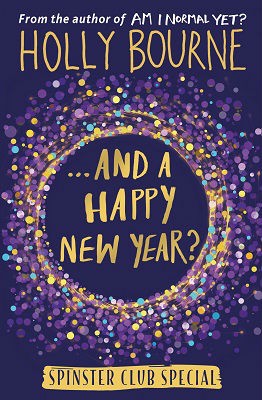 …And A Happy New Year? wraps up the Normal series and we say goodbye to the Spinster girls. It's a perfect ending to a brilliant series and reminds us that life isn't perfect and people are not perfect, but god this book is! It's a hug to every reader out there that has read and stuck beside the Spinsters throughout the entire series and a thank you for being there with them.
♥
Soulmates

Soulmates is actually Holly's first published book. This book is as the name suggests, all about soulmates. Two people meet each other and are just made for each other, but this means bad news for the planet because if two soulmates meet, they cause catastrophic damage and it is the job of a few select people in the know, to prevent this from happening. A cute romance underlain with a feeling of dread that all won't work out in the end.
I have to say that the relationship between Poppy and Noah was adorable to read about, but prepare yourself for a bit of a sad ending which left me kind of emotional and disappointed for the characters (don't worry, no one dies). It's quite similar to her books that were published later and a stunning debut novel.
"Happy endings are reserved strictly for the fiction shelves of bookstores"

–Holly Bourne, Soulmates
♥
It Only Happens In The Movies

A wonderful and refreshing read of the truth of romance movies and how this doesn't actually translate in real life. Audrey is struggling to cope with her crumbling home life so she escapes to work in the local cinema where she meets the movie cliché-filled, Harry who is everything she hates about romance movies. With a superb display of actual true relationships in reality, Audrey shows us that what you see in movies is only half the truth. This book has one of the best endings ever and one that leaves a bittersweet warmth spreading in your heart.
♥
Are We All Lemmings & Snowflakes?
Welcome to Camp Reset! A place where teenagers with mental health disorders are brought together to live for a month with a timetable full of one-to-one counselling sessions, group therapy, art therapy and more. Olive qualifies for the trial period of Camp Reset before it's rolled out officially and it's here we really get to learn about Olive and how maybe, just maybe, society is the problem and all we're lacking is a little kindness in this troubled world.
It's quite a different read from anything I've read as Olive's mood changes which is reflected in the writing. Definitely worth reading and if you do anything today, just start spreading a little bit of kindness! You never know who might need it.
♥