A Thousand Beginnings and Endings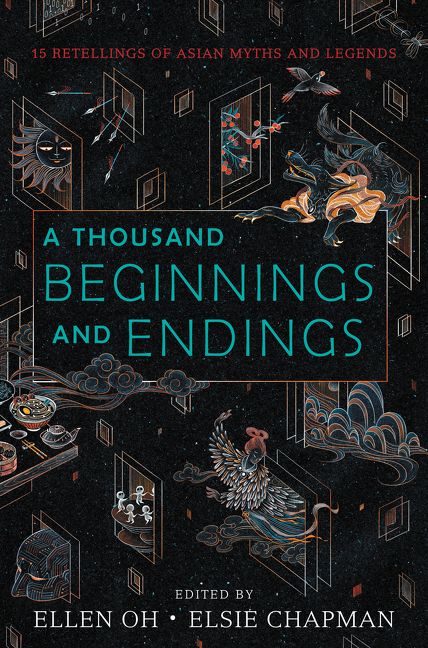 Author: Ellen Oh (editor), Elsie Chapman (editor)
Publisher: Greenwillow Books
Pages: 336
Rating: ♥ ♥ ♥ ♥
Synopsis from goodreads:
"Sixteen bestselling and acclaimed authors reimagine the folklore and mythology of East and South Asia in short stories that are by turns enchanting, heartbreaking, romantic, and passionate.
Compiled by We Need Diverse Books's Ellen Oh and Elsie Chapman—who both contributed stories to this edition, as well—the authors included in this exquisite collection are: Renée Ahdieh, Sona Charaipotra, Preeti Chhibber, Roshani Chokshi, Aliette de Bodard, Melissa de la Cruz, Julie Kagawa, Rahul Kanakia, Lori M. Lee, E. C. Myers, Cindy Pon, Aisha Saeed, Shveta Thakrar, and Alyssa Wong.
A mountain loses her heart. Two sisters transform into birds to escape captivity. A young man learns the true meaning of sacrifice. A young woman takes up her mother's mantle and leads the dead to their final resting place. From fantasy to science fiction to contemporary, from romance to tales of revenge, these stories will beguile readers from start to finish."
♥
This anthology of Asian myths and legends features some well-known authors whose books I have read and enjoyed, as well as some authors I had not come across before. It's set in the style of a retelling followed by a short explanation from the author regarding the origin and inspiration behind their retelling, introducing me to some legends I had never heard of! I thoroughly enjoyed this collection of short stories and I'm pleased to say I enjoyed more of the stories than not, which is always a concern when reaching for an anthology – but not in this case!
A Thousand Beginnings and Endings starts off strong with Roshani Chokshi's Forbidden Fruit story and while it dips in the middle for me, I thought there was a great variety of retellings so there's truly something for everyone to enjoy from fantasy and magic to ghosts and vampires, and of course the inevitable android story.
Here is a list of the stories with their respective authors and my mini rating for each:
Forbidden Fruit by Roshani Chokshi ♥ ♥ ♥ ♥ ♥
Olivia's Table by Alyssa Wong ♥ ♥ ♥ ♥ ♥
Steel Skin by Lori M. Lee ♥ ♥ ♥
Still Star-Crossed by Sona Charaipotra ♥ ♥ ♥
The Counting of Vermillion Beads by Aliette De Bodard ♥ ♥ ♥ ♥
The Land of the Morning Calm by E. C. Myers ♥ ♥ ♥ ♥
The Smile by Aisha Saeed ♥ ♥ ♥ ♥ ♥
Girls Who Twirl and Other Dangers by Preeti Chhibber ♥ ♥ ♥ ♥ ♥
Nothing Into All by Renée Ahdieh ♥ ♥ ♥ ♥ ♥
Spear Carrier by Rahul Kanakia ♥ ♥ ♥ ♥
Code of Honor by Melissa de la Cruz ♥ ♥ ♥
Bullet, Butterfly by Elsie Chapman ♥ ♥ ♥
Daughter of the Sun by Shveta Thakrar ♥ ♥ ♥
The Crimson Cloak by Cindy Pon ♥ ♥ ♥ ♥
Eyes Like Candlelight by Julie Kagawa ♥ ♥ ♥ ♥ ♥
My favourite stories were probably Forbidden Fruit, Olivia's Table, Nothing Into All, and Eyes Like Candlelight but there are elements of the other stories that I really enjoyed, particularly one passage in Spear Carrier. I also really enjoyed where some of the retellings went compared to the myth and the author's individual take on such a story. I especially liked the different cultures embedded into each story and even though I had to do a bit of googling – mainly for different types of clothes – I still loved reading the stories.
I really recommend this anthology of Asian myths and legends and adding this diverse book to your TBR because you won't be disappointed! I would love to see a sequel to this anthology done be it by the same authors or new ones – it's such a fantastic idea and it was executed very well.