Goodbye, Perfect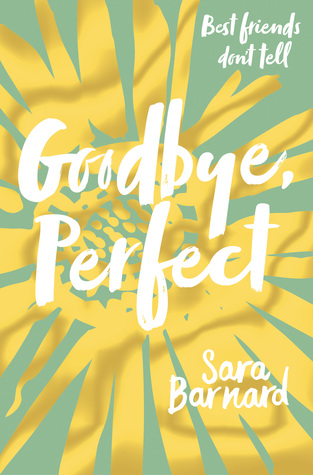 Authord: Sara Barnard
Publisher: Macmillan Children's Books
Pages: 300
Rating: ♥ ♥ ♥ ♥ ♥
Synopsis from goodreads:
"Eden McKinley knows she can't count on much in this world, but she can depend on Bonnie, her solid, steady, straight-A best friend. So it's a complete shock when, five days before the start of their GCSEs, Bonnie runs away with a guy Eden knows nothing about. And it's the last person she would ever have expected.
As the days pass, and her world begins to unravel, Eden is forced to question everything she thought she knew about her best friend and herself."
♥
Goodbye, Perfect is about friendships and just how far we'd go for our best friends in times where trust is paramount but so is the safety and happiness of our friends. It shows us that no one is perfect despite outward appearances hinting at so, and how family and friends are the most important things in the world.
I absolutely LOVED this story of two friends, the one doing something completely unpredictable and out of character, and the other responding accordingly with conflicting feelings of loyalty and honesty. Eden loves her friend and wants to prove her trustworthiness, but Bonnie has kept secrets from Eden that best friends don't keep stuff from the other. This book is all about testing friendships and exploring what is it to be a friend – is it to keep your secrets no matter what, or is it to have your health and happiness at heart at all times?
Bonnie is an insufferable character with her constant smiley emojis and her smugness for doing something totally crazy in the name of love, but she is naive and doesn't really know what she's doing. Poor Eden gets caught in the middle between telling truth and lies for the sake of her friend. We see the after effects of a child running away from home as parents crumble, press swarm to the school and local town and friends realise that maybe they weren't as close as they thought they were.
This is one of those books that makes you feel both good and sad at the same time. It has many themes woven in between the major story line and theme of friendship, also exploring romance at the teenage stage, adoption, pressures of school life and perfection and its unrealistic expectations.
The writing is easy to follow and I could have read the book in one sitting if I could have! I love the inclusion of text message conversations (but god Bonnie's texts were annoying) and the newspaper articles. There's also an interesting relationship set up between Eden and her adoptive parents and the relationship she has between herself and her sister related by blood, Daisy, and her sister related by adoption, Valerie. It's thought-provoking and heart-warming as the family grows closer in this stressful time. Though it's a tiny part of it, there's also the brief mention of university and the harsh realities that it's not all it's cracked up to be.
My favourite theme explored is the idea of perfection and how it simply doesn't exist! It just shows that all of these people we deem perfect or to have the perfect life, actually don't and are hiding so much from us that we don't know. It also shows how striving for perfection can lead to your downfall – the pressures some people put on themselves can be so heavy they end up hurting themselves and those around them.
Goodbye, Perfect has so many levels and I loved reading it. It's a story of love and loss and the ending is somewhat left open for interpretation – for the reader to fill in however they want.